Drawing the Passing
Description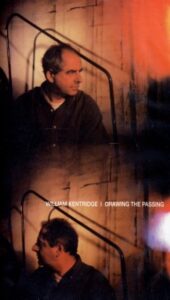 Exploring the space between the personal and the political, the work of William Kentridge has since the 1970s investigated the diseased, amnesiac consciousness of late and post-apartheid South Africa. Kentridge has received international acclaim for his animated films, drawings and theatre work.
In his 'stone-age filmmaking' technique, Kentridge films his charcoal drawings as the mutate through hundreds of successive erasures and alterations. Erasure is never complete, and the drawing and films carry within them the history of their making. Johannesburg, 2nd Greatest City After Paris appeared in 1989, the first in a series of short films featuring Soho Eckstein – Johannesburg 'property developer extraordinaire'; and Felix Teitlebaum, his alter ego – 'whose anxiety flooded half the house'. The eighth film in the series is Stereoscope (1999).
In November 1998, filmmaker Reinhard Wulf and art historian Maria Anna Tappeiner visited Kentridge's Johannesburg studio to film the artist at work. The resulting documentary records Kentridge in the final stages of animating Stereoscope. It includes excerpts from the finished film, plus Kentridge's reflections on his work and the process of making it.
(ONLY AVAILABLE FROM THE DK BOOKSTORES)