A lively evening at David Krut Bookstore: Book Launch for Crashed by Melinda Ferguson
Last night DKP hosted the book launch for Melinda Ferguson's third book, Crashed. The memoir, dubbed an enthralling "rollercoaster of a ride" (James Frey), attracted a lively and passionate crowd who have supported Ferguson's work since her bestseller, Smacked (2005).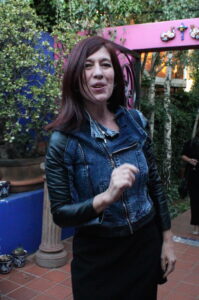 Since then, Ferguson published Hooked (2010) and worked at True Love magazine as features editor. All three books are autobiographical and set at different stages of her journey in "going clean" but replacing addiction with materialism. Crashed is particularly gripping as it explores the latter theme, taking the real life event of a near-fatal Ferrari crash as a serious reality check.
By 6:30pm, the bookstore was packed and the books sold like hotcakes.
Crashed is self-published so Ferguson was interviewed by fellow journalist and award-winning editor Lerato Tshabalala. The light-hearted Q&A covered some of the most humorous aspects of the book, including an embarrassing sex scene with a recent ex-partner, which had the crowd in hysterics.
All in all, it was a fabulous evening. Thank you to everyone who came and made it such a success.
Crashed is available to buy at: http://www.amazon.com/Crashed-Trashing-Ferrari-Saved-Life-ebook/dp/B017K3F9EG/ref=sr_1_1?s=books&ie=UTF8&qid=1446640709&sr=1-1&keywords=Crashed+Melinda+Ferguson