Saturday Talk at 151 | ARCHAEOLOGY 101 with Dr Karim Sadr – THEORIES, METHODS AND PRACTICE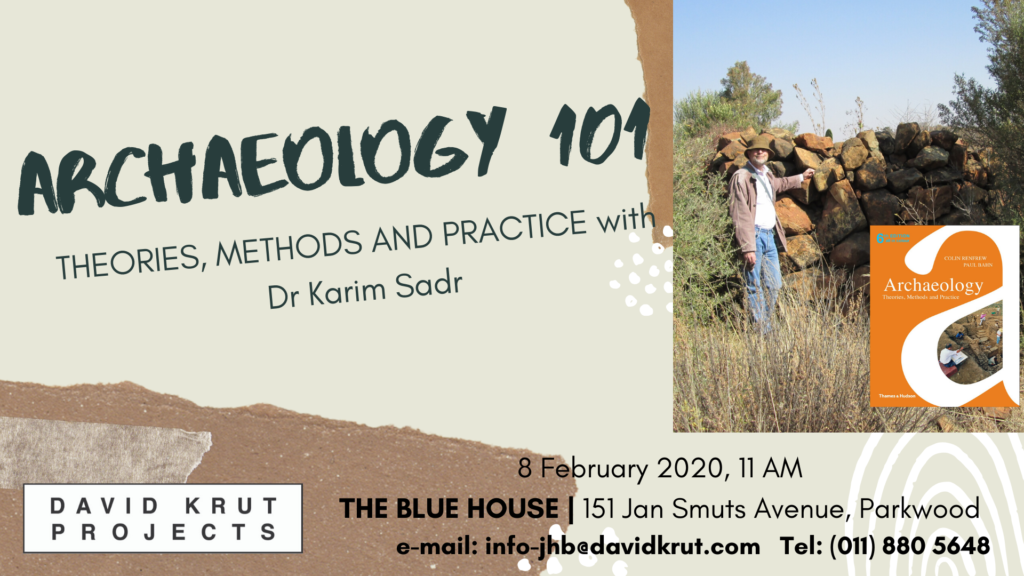 Join us at THE BLUE HOUSE – 151 Jan Smuts Avenue – on Saturday 8 February 2020, 11 AM for an exclusive opportunity to listen to Wits University professor Dr Karim Sadr share an overview on archaeological theories, methods and practice.
Dr Sadr will be using ARCHAEOLOGY: THEORIES, METHODS AND PRACTICE by Colin Renfrew and Paul G. Bahn – the sixth edition of the best selling introduction to archaeology – as a springboard on the topic. This book provides thorough coverage of all the major developments in archaeological method, science, technology and theory.
About – Dr Karim Sadr was born and raised in Iran, went to boarding school in Scotland and then attended university in Texas. He worked on archaeological digs in Texas, New Mexico, Mexico, Ecuador and Portugal. Dr Sadr specialised in North East Africa where he worked in various parts of Sudan and Egypt. Dr Sadr stayed in Texas until 1990 and then came to South Africa as a post-doctoral fellow in archaeology at UCT. After four years in Cape Town, he went on to spend six years in Gaborone teaching at the University of Botswana. Since 2001 he has been a professor at Wits University.
Dr Karim Sadr in front of a stone tower at the site of Kweneng, just south of Johannesburg.

Dr Karim Sadr