Childrens Book Launch and Reading – I am Alex / Ek is Alex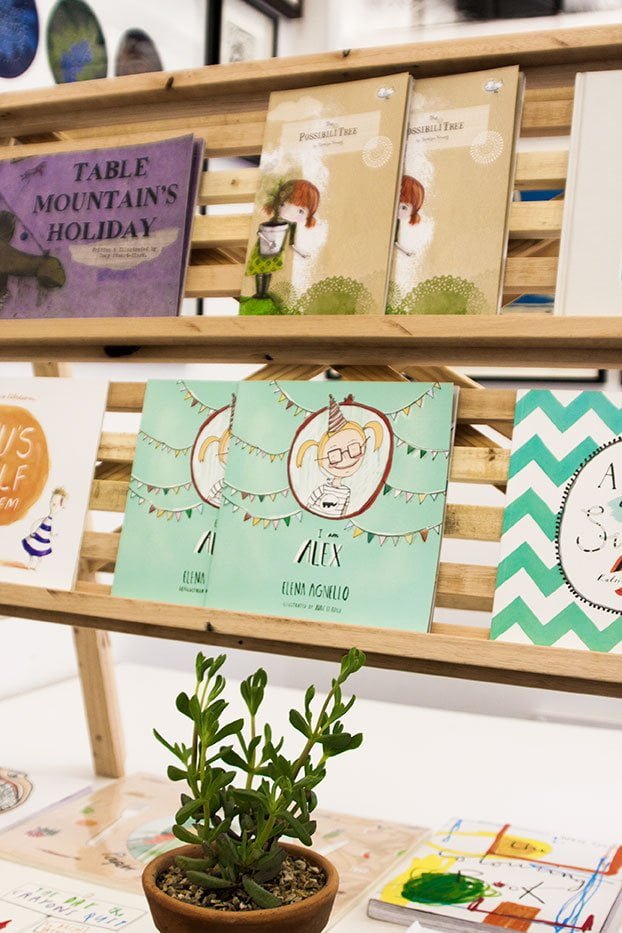 David Krut Projects | Montebello Design Centre | Saturday 7 May | 10h30 for 11am
We are pleased to be hosting the launch and reading of I Am Alex and Ek is Alex by Elena Agnello and illustrated by Adrie Le Roux.
This is a story based on Alex's birthday where families from all walks of life are invited – come and find out what they get up to on her special day and join us for a colouring in session.
Entrance is free, but please RSVP to Illana, as refreshments will be served: [email protected] / 021 685 0676
PRESS RELEASE:
The latest release from Bumble books, I am Alex and Ek is Alex, deals with the subject of diversity. Winner of this year's Bologna Children's Book Fair Best Children's Book Publisher in Africa, Bumble is carving a niche with its beautifully illustrated books.
Says publisher Robin Stuart-Clark; 'What caught my attention about I am Alex was the simplicity and innocence of the storyline: children don't see race or religion, sexual preference or disability – and nor should they have to. This little book is a universal celebration of diversity and tolerance.'
An invitation to a birthday party is something all children can relate to!  'It's Alex's birthday and she is inviting her friends to her party: Kaleb has two dads, Lina goes to church on Fridays, Zia has a wheelchair, Vuyo is her best friend and Rashida does Indian dancing. Everyone is welcome, please come too!'
First time author Elena Agnello shows how, by taking a universal theme, the subject is simply and effectively portrayed. With delightful illustrations by Adrie le Roux the characters and the situations are alive and easily recognisable. This book achieves its goal of showing that we are all the same whatever our race or our culture.
ELENA AGNELLO is from Cape Town and works in the film industry as a production designer. She has a passion to fight intolerance and discrimination. I am Alex / Ek is Alex is Elena's first children's book.
ADRIE LE ROUX is an artist and illustrator based in Pretoria, South Africa. She holds an M (Phil) degree in Visual Arts (Illustration) from Stellenbosch University, and is currently working towards a PhD in the same field, focusing on wordless picture books in creating a culture of reading.