Translations Programme – South African Languages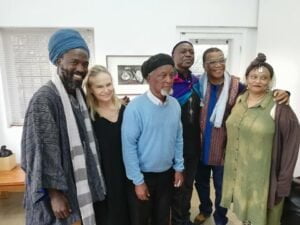 Following on from our November 2017 poetry event – Poetry in Translation. This event will focused primarily on translations from European languages into Afrikaans and hosted esteemed poets. Such as: Johan Myburg, De Waal Venter, René Bohnen and Corné Coetzee. David Krut Bookstores has continued this vision in May 2018 with Part 2 of this series – Translations from African Language Poetry.
Poets represented at this event included an esteemed line-up: Vusi Mchunu (Author and co-founder of Freedom Park Museum), Lefifi Tladi (Jazz musician and co-founder of Dashiki), Zulumathabo Zulu (Mathematician and author), Prince Shapiro (Activist and member of Sounds of Edutainment), Sandile Ngidi (Journalist and translator) and Vonani Bila (Musician and founder of Timbila Writers' Village).
Poetry was presented in a diversity of South African languages including; Zulu, Xhosa, Sepedi, Setswana, Sesotho, Xitsonga and Afrikaans. With translations into English by the poets.
The poets were unanimous that Afrikaans was also a language that needed to be presented. This was represented by Grethe Fox reading the poetry of Corne Coetzee (Journalist and theatre critic) and Diana Ferrus (Storyteller and author).
Expanding on this programme David Krut Bookstores presents a follow on event dealing with South African Language and Translation. A reading by illustrator Zhi Zulu of the book The Herd Boy by Niki Daly. This Jacana children's title, among others, has been translated from English into multiple South African languages. This will be read by Zhi in both English and Zulu, at our Arts on Main Bookstore Space on Sunday June 3rd at 11am.