Stanford Creative Works (SCW) Holiday Program
12 – 16 December 2016
The Stanford Creative Works holiday program is a community based initiative and it was wonderful to welcome volunteer crafters and artists from Stanford to offer creative workshops to the children of Stanford. We aim to offer a safe creative and stimulating space in the holidays for children to express their creativity. Play. Have fun and engage in activities that stimulate body and mind. This program is aiming to bring the Stanford community together for our children.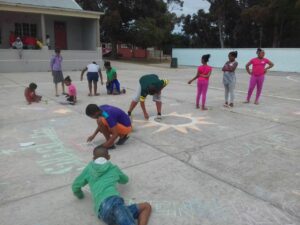 It takes a whole village to raise a child.
We started the program with a collaborative street chalk drawing where each child was offered an opportunity to make their mark in the form of their name or a symbol representing themselves.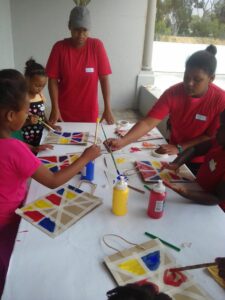 A variety of activities were offered during the week such as pattern making on paper bags, potato printing, fabric painting, mosaic making and Christmas decorations.
Reading for fun with the Children's Book Network.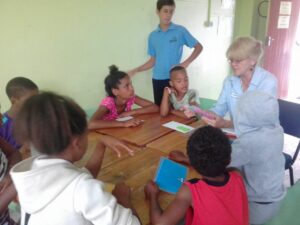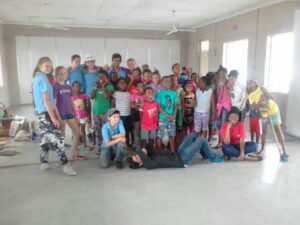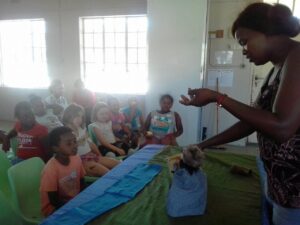 Puppeteers from the enlightened trust came and treated the children with stories and puppet making.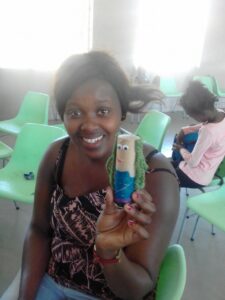 The Stanford Creative Works team helping and assisting the children during the activities.
There was a movement class with Moody from the African Acrobats.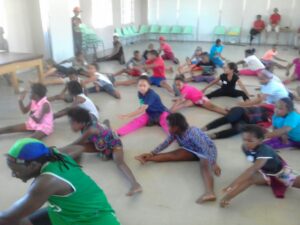 Moody gave a fire demonstration.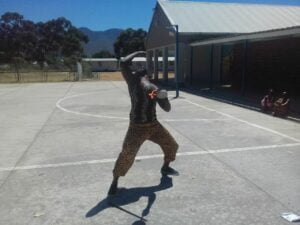 There was a Mosaic workshop with Chris Wolf.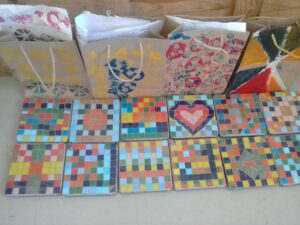 We would like to express a big thank you to all our ladies on site, Die Bron School, the DK Team, all our artists and crafters who offered workshops, Skills Exchange Co-operative (SEC), Stanford police, Peregrine farmstall, Kleinrivier cheese, Heidi Salzwedel and Marti Lund.
–Written by Regina Broenner