Stanford Creative Works (SCW) Parents' Workshop
Over the past two months we have invited parents and kindergarten teachers to a variety of workshops with the aim to give them hands on practical skills to use at home and in the classroom. Through this process we enable to enhance their children's development.
As you can see from the pictures we are inviting the parents to experience the materials themselves such as the play dough and sequences with a cloth. (Both these activities are featured in  the DK published book, Movement Breaks in the Classroom.
This workshop was held at Die Bron Primary School in Stanford. We collaborated with Jenny van Velden from the Principal's Academy Trust and with the Star Literacy Program. The workshop was well attended . We have held 4 workshops in January and February at various venues and have reached around 50 parents, teachers and teacher's assistants.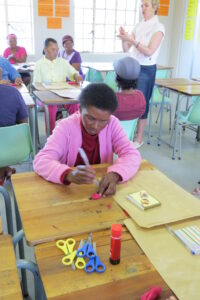 All the workshops are having a follow up and we are aiming to build up a network of ongoing groups all year round.