Tafelberg High School visit David Krut Project Cape Town (DKCT)
David Krut Projects Cape Town (DKCT) was delighted to host Matric Design students from Tafelberg High School on Tuesday 9 May 2017.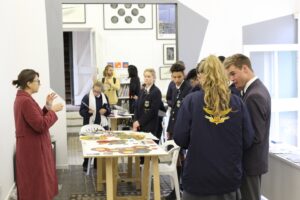 During their tour of the Montebello Design Centre (MDC), Elize de Beer spoke to the students about our current project- Asuka Nirasawa, who is the Artist-in-Residency (AIR) for May 2017. Elize spoke to the students about materiality and Nirasawa's investigation into fabric that began during her residency at the famous BAG Factory in Fordsburg, Johannesburg. The BAG Factory has provided studio space to many acclaimed South African artists that include Kagiso Pat Mautloa, Sam Nhlengethwa and David Koloane. More recently Jarrett Erasmus, who graduated from Rhodes University, has also been a resident artist at the BAG Factory.
This was a particularly unique experience for the students as they were able to see an artist in the process of creating an entirely new body of work. They were also given the opportunity to see how a project gallery space operates that in the case of David Krut Project Cape Town (DKCT) includes a bookstore and an exhibition space.
Furthermore, Nirasawa's use of textile and fabric ties integrally into other projects at the Montebello Design Centre (MDC) that now includes Elbé Coetsee's Mogalakwena Gallery and the studio of one of Cape Town's leading artists, Zola Ndimande. Ndimande's work was featured in the IZIKO South African National Gallery's 2016 and 2017 exhibition, "Women's Work: Crafting Stories, Subverting Narratives".
Daniel Hewson gave the students background into the prints and work of William Kentridge, in which David Krut Projects has a special relationship having published his prints since 1992. The students were fascinated to learn about the numerous techniques employed by Kentridge to achieve the desired results that include etching processes such as: hardground etching, photogravure etching, spitbite aquatint, sugarlift aquatint, drypoint engraving and relief printmaking techniques such as linocuts, woodcuts. One student in particular was fascinated to see one of Diane Victor's smoke drawings that involve the artist applying strokes of smoke onto a paper surface. This technique was first used to describe the process of missing people quite literally 'going up in smoke'.
We look forward to welcoming other art students to David Krut Projects Cape Town (DKCT) at the Montebello Design Centre (MDC).