The Rainbow's Heart – Exhibition and Children's Book Launch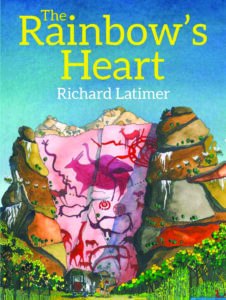 When cousins Dusty Rhodes and Bob Wyre are asked to save a mysterious colony of bees, they must follow a honeyguide across Africa, through border posts and foul weather – all the way to the Rainbow's Heart. But will they be in time to rescue the bees and will their plan to save them work?
We are delighted to host the launch of The Rainbow's Heart, written and illustrated by Richard Latimer and published by Bumble Books. The launch will be accompanied by an exhibition of the original illustrations, which were prepared in the 1980s. The drawings were created using Dr P.H.Martin's Radiant Concentrated Watercolour made in Florida, USA. The problem with this product is that all the colours are fugitive so that while they are out of the light they remain very bright, but they tend to fade in normal light. We are therefore delighted to have the privilege of showing the very seldom-seen works for a short time after the launch, alongside a selection of limited edition digital reproductions of the drawings.
Please join us for the launch on Saturday 4 June at 11am, at our Cape Town gallery located in the Montebello Design Centre, Newlands.
Please RSVP to [email protected]