Architecture Meets Art Talk #4 and Launch of Culture Set Design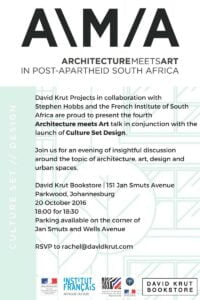 In the hot seat: Artist Stephen Hobbs in conversation with designers and collaborators Sphiwe Giba, Keutlwile Tseleng Phala and architectural practice Counterspace: Sarah de Villiers, Amina Kaskar, Sumayya Vally.
A critical dialogue between art and architecture is sorely lacking in South Africa. While architecture delivers public, physical structures, endowed with seeming omnipresence, art, as an unrestrained field, has the capacity to expose and re-construe the human condition. By academically and vocationally separating these disciplines, we fail to appreciate buildings as artistic objects which belie the human experience.
Culture Set Design Launch
Elucidating the discussion surrounding architecture and design, comes the second edition of Culture Set, which revolves around design in an urban context, with a focus on the Re-Thinking Design Workshop, an international collaboration between South African and French students to define design practices as social and political tools.
The French Institute of South Africa (IFAS) and David Krut Publishing (DKP) joined forces to create Culture Set – a series of booklets around themes linked to the programming of IFAS, and following the tradition of the Skill Set series and TAXI Art Book Educational Supplements.