Foundation for Community Work (FCW)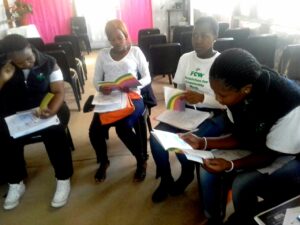 Participants at the FCW Workshop in Stanford
Regina Broenner who runs Stanford Creative Works (SCW) offered a workshop for the Foundation for Community Work (FCW) team on the 10 March 2017.
The team consists of 17 community workers who visit families in Stanford, Hermanus and Gansbaai
teaching parents about early childhood development and how to stimulate their children from an early age. The FCW team is run by Jenny October who Regina has been collaborating with since the beginning of SCW in 2011. The theme of the workshop was the Movement booklet and how to stimulate children through movement. We also talked about early screening methods and how to enhance the development of babies through sensory stimulation. Every community worker received a Movement Breaks in the Classroom Book published by DK Publishing. The workshop was well received and very interactive.
Participants at the FCW Workshop in Stanford
Circle Discussion at the FCW Workshop 
Examples of sensory toys for Early Childhood Development (ECD) for mothers at FCW