Spring flowers at Die Bron Primary in Stanford
Young children love to be creative. They are natural artists and enjoy playing with colour on a piece of cloth or paper. This month the children who are attending our Early Learning Program at Die Bron Primary created beautiful spring flowers on round paper serviettes.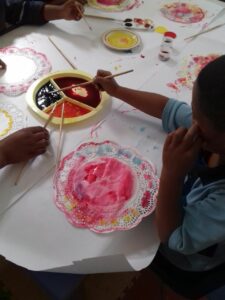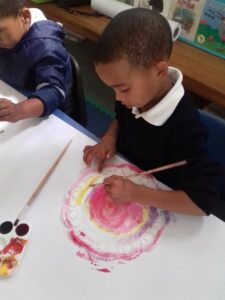 Exposing young children to painting activities with different tools such as brushes, sponges, feathers or cotton wool is essential preparation for when the children enter the school environment and start to write. The exercises therefore enhances school readiness in a fun way for the child.
Every spring flower created in this activity is unique and reflects each child's preferred colour or mood in that moment. When we give young children the opportunity to express themselves without judgement we nurture their spirit and their belief in themselves. We let them know that they are beautiful as they are.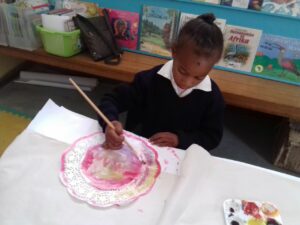 At Creative Works we strive to support children, offer them a safe space to express their creativity, and help them to develop their sense of love and care for each other.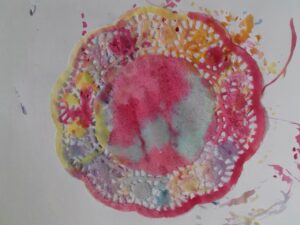 Die Bron Primary Shool in Stanford is close to our heart and we are offering our Early Learning Program as well as Skills Development groups of Grade 1 learners on a weekly basis in collaboration with Star Literacy at the school. Die Bron is a multi-grade pre-primary and primary school in the village of Stanford, Western Cape. The school has 500 learners from grade R to Grade 7 and 16 teachers. It is a place where the community comes together as Afrikaans and isiXhosa speaking learners attending the school. Thank you to the Die Bron team as well as Star Literacy for a full and exciting year of collaboration and growth.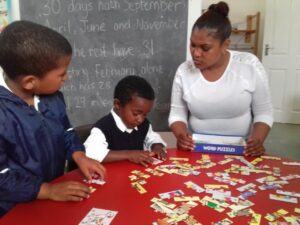 Our Creative Works assistant Nicol doing puzzles with the Grade R learners.
Nicol lives in Stanford and joined us in the beginning of 2017. She assists in the Early Learning Program at Die Bron Primary and also at our Skills Development groups for Grade 1 learners. She is dedicated and enthusiastic, and has a natural and emphatic way when working with the children in our programs. Thank you Nicol for the consistent and wonderful work you do in our program
The giving of love is an education in itself. E.R
by Regina Broenner