Creative Works at Funimfundo Pre-School
Over the past few weeks we have explored the theme of working with every day, recyclable material with the grade R class at Funimfundo Pre-School.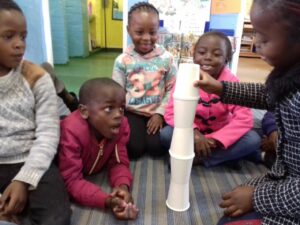 We have used newspaper sheets for movement activities, folding items and crumbling balls for ball play and we have created interesting constructions from recyclable paper and plastic cups. The aim is to stimulate the children's physical, emotional, social and intellectual development in creative ways using material and resources that are freely available in everyday life.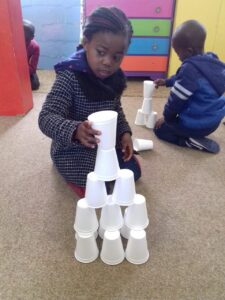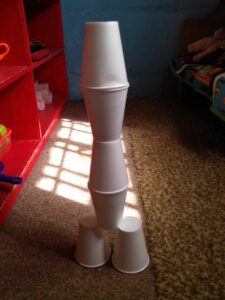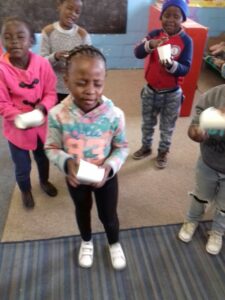 A newspaper sheet can become a water puddle to jump over or a racket to play ball games with. The items inspire young children to use their imagination and play freely using their whole body and mind. This sets the base for developing solid base skills for further learning and gives children a platform to express their emotions without judgement to the world.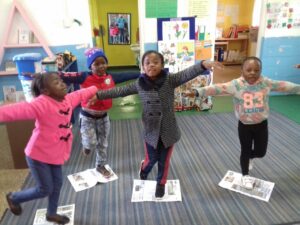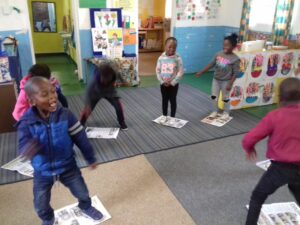 Funimfundo (which means seeking knowledge) is a pre-primary school established in 2004. The school is located just outside of Stanford at Die Kop informal settlement, and educates and feeds around 50 children. All the teachers are fully qualified and the school cook makes nutritional and delicious meals for the children every day. Funimfundo is a place that nurtures children holistically and supports every child to reach their full potential.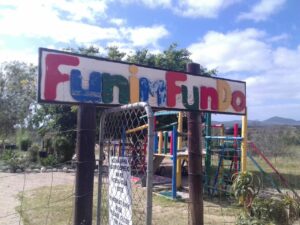 Creative Works offers an early learning program in the form of occupational services for individual children, classroom interventions and creative sessions for the grade R class on a weekly basis. We feel proud and blessed to be part of this place of education, beauty and love.
The child is both a hope and a promise for mankind.  Maria Montessori
by Regina Broenner