Stanford Creative Works (SCW)
Stanford Creative Works is an early learning program at Die Bron Primary School and Funimfundo Pre-School in Stanford. Our early learning program aims to assist children at an early stage of their lives and build up basic skills that are needed for further academic learning and also for emotional well-being and social interaction with others.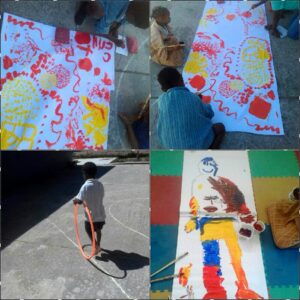 With the young child we are focusing to work through the senses in order to help and equip children with tools that are needed to read the world around them and translate the information that is received through the senses into valuable knowledge and adequate responses.
We use all the senses and aim to stimulate the whole child with age appropriate play and movement activities.  Children learn through play and therefore we offer a variety of games and also creative activities in our programs.
The Stanford Creative Works (SCW) early learning program is close to our hearts as one of the core pillars of our work is supporting young children and their families. Many thanks to the Zoe Carss Education Trust and DK Projects for their ongoing support.
Regina Broenner