Word Art at 151 | Young Voices: Siza Nkosi
Siza Nkosi is a writer, teacher and mother from Soweto. She is currently doing her MA in create writitng and enjoys painting potraits of where she comes from and of people through words. She is founding member of House of Siza, an NPO that seeks to change people's lives through literature and empower them to tell stories in their own languages. She also write children stories in isiZulu.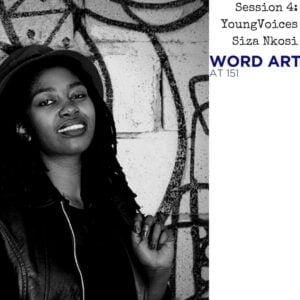 soweto tour
so where to?
international!
it's the end of the month
Vilakazi Street is up the road from Hector Pieterson memorial
the Mandela house is renovated into a museum
the restaurant opposite sells samp for a fortune
taking my family to eat lobsters for Sunday lunch
is cheaper in the suburbs
a simple I ? Soweto t-shirt is extreme
tourists invest in this fakeness
even Busi says hi with an accent
so where to?
Dube Shoprite!
next to the Maponya robots
vanity is sold on pavements
from selfiesticks to hairpieces
then you get nyaope boys, "nomayini sister"
any
even a shitty cigarette, anything to sustain the high
Shoprite now; it's filthy and loud
it used to be Maponya's Supermarket
before he built the mall,
spaza shops used to stock their supplies from him
families were never hungry
so where to?
Dube station
via the main road
Jozi FM on the left
they play gospel and cheaters on Thursdays
uncle Ray seems to be waiting for me next to the toilet
(they call the police station a toilet)
Ray has a different story this time
it's from the Gibson Kente days
they used to gather at his home
not far from Nkathuto Primary
they created plays and songs
now he exchanges his lesson on g-scales
for a quart of black
so where to?
Hearty's Fruit & Veg is barren
no one eats vegetables these days
behind it used to be bus terminals
hip hop used to be the heart of this place
MCs high on politics creating passionate verses
buying apples from Hearty's
now it is a parking lot for Sanele's Tavern
a hell gate in the society
my heart weeps
so where to?
Avalon cemetery, Soweto!
that's where dreams are resting; probably in pieces
I pass Eyethu theatre, naked on Machaba Drive
I stop by Inside Out; Thebe Lipere's jazz lounge
find Khaya Mahlangu jamming
with Themba Mokoena and some young bloods
they are serving butternut and spinach
I decide not go to Avalon anymore
I will not bother the dead
their bones are resting but their spirits
their spirits live in these songs