Working with paper mache at Funimfundo Pre-school
This week we guided the children through the process of making paper mache bowls. This activity engages the senses as well as the hands and eyes and the children have to coordinate both hands while plastering the ballon with newspaper.
Offering whole activities – an activity that has a beginning middle and outcome – is a wonderful process for children to engage in. To take a few days or even weeks for a project teaches the children valuable skills in sequencing and processing the different steps. They have to learn how to be patient when waiting for the balloons to dry and they can practice social skills by helping each other.
The end product gives a sense of achievement and self esteem as the children can see what they can do with their own hands. It is so wonderful how unique and beautiful every single bowl is. As adults it is important to encourage children to express themselves; not to interfere with but rather celebrate their individuality. This is what makes children strong.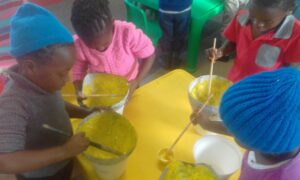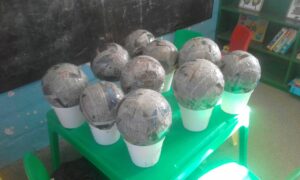 By Regina Broenner