New Arrivals 2022 – Welcome Back!
It is with a smile and cautious optimism that most of us welcome 2022. With a brand new years comes a brand new shipment of carefully curated books to the David Krut Bookstore on 151 Jan Smuts, Parkwood.
One cool thing about the pandemic (believe it or not) is that many of us, who didn't have that much time to read books before, suddenly found books to be our greatest companions during the lonely hours and weeks in lockdown. And as the world changes and we slowly get ushered back into a sense of "normality" once again, the books are coming with us. Whether you're one of these newly seasoned book lovers, or perhaps an old hand at the ol' hardbacks, there is a book or two here that are sure to capture your interests.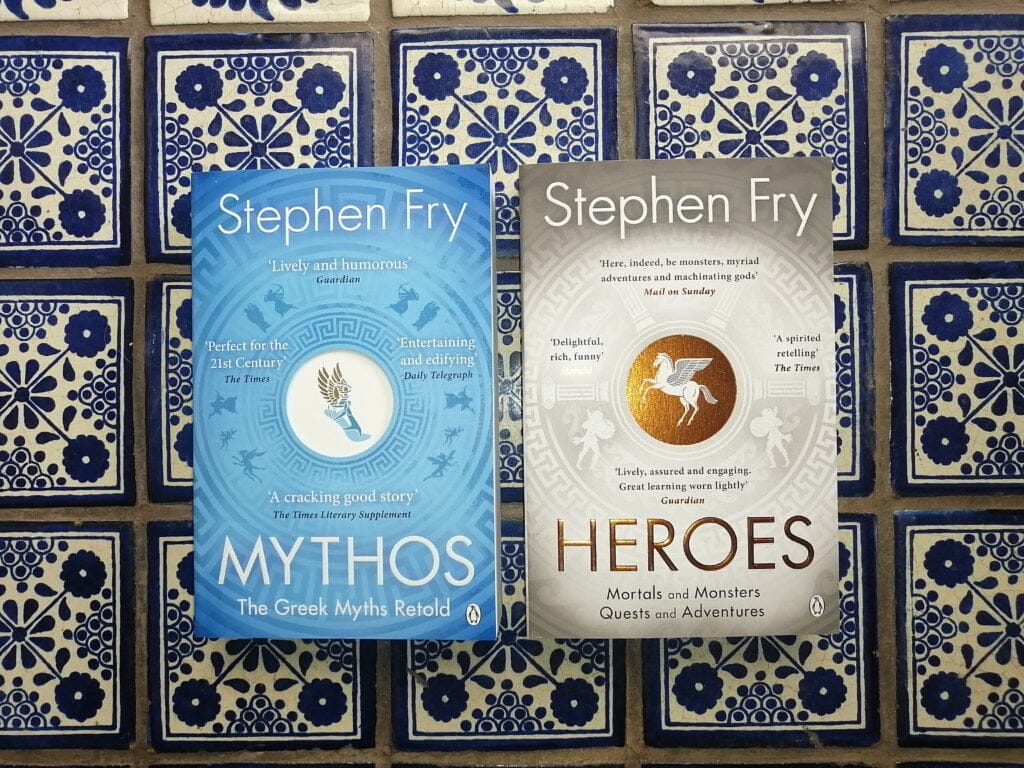 Are you one of those people who gets a tinge of excitement in your heart when you notice a new documentary has appeared on Netflix? Then might I suggest two of our new editions, written by Stephen Fry, named Heroes and Mythos, wherein Fry retells the stories of ancient Greek mythology in his own unique, humorous fashion.
Weird and wonderful facts about nature, science and technology lie hidden in the pages of Entangled Life by Merlin Sheldrake, a fascinating book about the alien world of fungi, and The Trust Manifesto by Damien Bradfield explores the past, present and future of The Internet, how we interact with it and where we are likely headed as the world wide web continues to expand exponentially.
We're excited to announce, as part of the brand new book arrivals, a wide range of biographies, accounts and memoirs about some truly fascinating individuals. Putting The Rabbit in The Hat, an autobiography by acclaimed actor Brian Cox, takes us on a journey of his difficult and turbulent life and his iconic roles in some of the most ground-breaking films of the last era.
For a thrilling, real-life account of some James Bond level espionage during the end of the Cold War, The Happy Traitor by Simon Kuper, the story of the real spy George Blake, will keep you on the edge of your seat. Learn about the history of China and how it influenced his life and art, through the eyes of artist and author Weiwei Ai in 1000 Years of Joys and Sorrows.
This year, get empowered and inspired by four brand new books in our collection that center around the stories of four powerful, and very unique, women. The Chancellor is sure to give you goosebumps as you read author Kati Marton's exploration and analysis of German politician, scientist and chancellor Angela Merkel, and her path to successfully leading Germany and a large part of Europe out of the darkness and into a new age. Black Milk, a memoir by Elif Shafak, focuses on another kind of powerful and inspirational woman: the mother. Experience first-time motherhood and post-partum depression through her own voice as she negotiates the hardships and heart-warming moments of being a mother in a society where women are told that giving birth and raising a healthy child is the best thing you can ever achieve. Behind the Sequins takes us backstage of the glamorous world of professional ballroom dancing, as told in her memoir by professional dancer and TV personality, Shirley Ballas. Journey through her life, filled with major heartbreaks, hardships and immense triumphs. From the ballroom to the tennis court, read the autobiography All In by Billie Jean King, to learn about her groundbreaking tennis career, to her fight to bring gender equality to the tennis court.
If what you're looking for is a bit more on the humorous, heart-warming and wholesome side, there is something here for you too. The Cat Who Saved Books is a charming tale of adventure and friendship about a boy and a cat who go on a quest to save books that are being misused, written by Japanese author Sosuke Natsukawa. Another Stephen Fry book that is new to our shelves, Fry's Ties, is sure to leave you giggling. Read about Stephen Fry's infamous tie collection as he talks life and fashion in this adorable, stylish memoir-style book all about ties.
The continent of Africa is seeing a great boost in recent years of brilliant and uniquely African contemporary artists and writers. Learn more about the brilliant and breath-taking art coming out of Africa by picking up a hardcover copy of African Artists, complete with gorgeous photographs and texts all about art history and contemporary art from our beautiful continent. For more by and about Nigerian authors, get your beautiful hardcover copy of Of This Our Country and start reading the expertly compiled collection of Nigerian author's short-stories and essays.
And finally, for some incredible works of fiction that you simply cannot put down, check out the various works of our two new favourite fiction authors that have just arrived: J.M. Coetzee is a Nobel Prize winning South African author and his books Foe, The Death of Jesus and Age of Iron are currently available on our shelves and on our website. The beautiful books of Turkish author Elif Shafak are now gracing our shelves as well, but not only is the cover art absolutely stunning, but the stories she writes are captivating, mesmerizing and utterly enchanting. To step into the world of Elif Shafak, pick up a copy of The Bastard of Istanbul, The Island of Missing Trees, The Forty Rules of Love, Honour, Three Daughters of Eve or 10 Minutes 38 Seconds in This Strange World.
Visit davidkrutbookstores.com for more information on any of these books, or come to our location in the Blue House at 151 Jan Smuts Ave, Parkwood, Johannesburg to come page through these and other wonderful books on our shelves. Stay tuned for more blog posts about new books, suggestions on what to read next, discussions about brilliant authors, exciting themes and more!