This Week's Theme: Thames & Hudson
Lavishly illustrated, carefully designed and printed, Thames & Hudson Publishers are a world renowned establishment. Their passion and mission was to create a 'museum without walls' and to make the world of art and the research of top scholars accessible to a large reading public, they have without a doubt achieved this monumental goal. This month we will be looking back at some of our favourite Thames & Hudson publications here at The David Krut Bookstore.
To begin with, a selection of books that cover everything from architecture, art and design to children's books.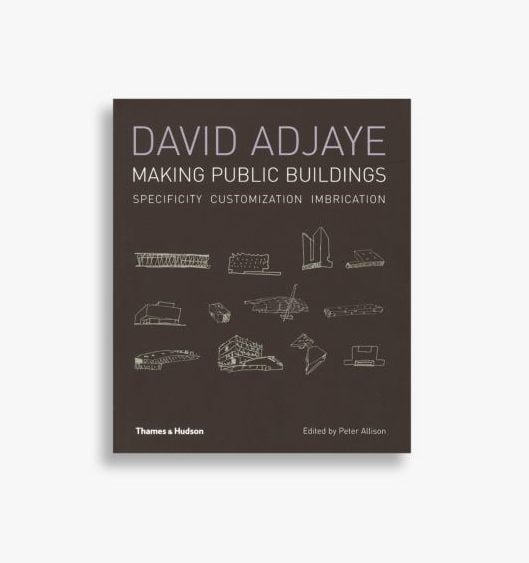 David Adjaye is one of Britain's leading contemporary architects, and particularly well known for his domestic projects. Adjaye combines the sensual and emotive with a conceptual approach to the fundamental elements of architecture. His influences range from African art and architecture to contemporary art and music leading to numerous collaborations with artists, including Olafur Eliasson and Chris Ofili.
Making Public Buildings focuses for the first time on Adjaye's engagement with civic space and the built environment. It brings together a distinguished group of authors to reflect on Adjaye's practice, significance and influences. Okwui Enwezor and Saskia Sassen discuss the increasing need for a politicized definition of public space, while Nikolaus Hirsch and Peter Allison consider Adjaye's attention to materials. Two interviews with David Adjaye, one led by Peter Allison and the other by Kodwo Eshun, guide us through his approach to making public buildings within a global context. They are accompanied by drawings, documents and photographs relating to ten of Adjaye's most important projects.
Great works of art cannot be fully understood in a single encounter: to get the most out of modern art, it pays to revisit and reconsider, to reflect and to scrutinize in detail. It is also helpful to understand a work's context: what has gone before, what it may be reacting against or extending, how it embraces new technologies, and how it relates to contemporary thinking on such subjects as politics, sexuality, identity and the role of the artist.
Modern Art in Detail: 75 Masterpieces spotlights the finer points that even those in the know may miss, casting light upon minutiae that a quick glance will almost certainly fail to reveal. Expert commentary reveals the subtle internal details and technical tricks employed by the artist to achieve particular effects. The book also looks at the themes and external and personal factors influencing the creation of an artwork – everything from global political events, to groundbreaking movements such as Cubism, Abstract Expressionism and Pop, and even scientific and mathematical theories, which are often of great relevance. The book examines 75 works of modern art, from Vincent van Gogh's The Church at Auvers-sur-Oise, through Marcel Duchamp's The Bride Stripped Bare by her Bachelors, Even and Francis Bacon's Three Studies for a Crucifixion, to Jeff Koons's Triple Elvis and Theaster Gates's Face Over Time.
Approaching each work as part of a tradition that links the oldest work of art to the most recent, it deftly charts the shift from the supremacy of artistic technique to the more recent dominance of the idea behind the artwork itself, as well as being an enlightening, entertaining and accessible guide to a wide range of modern art.
Graffiti Woman celebrates the rise of female graffiti and street artists, showcasing the work of over 125 women, from those at the top of the game, such as New York's Lady Pink and Amsterdam's Mickey, to a galaxy of rising stars.
Accompanied by lively quotes from the artists themselves, and introduced by renowned American artist Swoon and author Nancy Macdonald, this book is a must-have for anyone who has ever felt drawn to the galleries of the street.
In Stripes: Design Between the Lines, writer and design expert Linda O'Keeffe explores the lineage of lines as they shape cultu
re, art, and style.  The illustrations create a rollicking visual ride while the accompanying text—by turns witty and weighty—shows how these potent, sometimes-charged symbols have even changed the course of world history.
 
The simplest and most ancient of all decorative markings, stripes perpetually fascinate. Natural inspirations in the forms of zebra stripes, rippled sand dunes, and intricately gnarled wood grain have led us to use stripes in every permutation: on human bodies from elaborate woven textiles to the iconic Breton T-shirt to sharp pin-striped suits, in art from the earliest cave paintings to vibrant op art canvases, and in industrial design from World War II–era dazzle battleships to the ubiquitous bar code. Their appeal endures.
 
With over 250 full-color images, Stripes: Design Between the Lines provides a wholly original look at one of the most recognizable patterns of all time. Eight thematic chapters present stripes in every conceivable manifestation, from diabolical to decorative, historic to postmodern. The result is a wonderfully varied visual collage that shows how design-savvy people throughout the ages and recent design stars including Jonathan Adler, Geoffrey Beene, Jamie Drake, Jean Paul Gaultier, Josef Hoffman, Sol LeWitt, Todd Oldham, Alberto Pinto, Giò Ponti, Karim Rashid, David Rockwell, Carolyne Roehm, Paul Smith, and Vivienne Westwood have incorporated stripes into their work and daily lives.
Franklin the dragon loves stories and loves reading stories to people too, but everyone is too scared to even look at him. One day he meets a girl named Luna who, far from being scared, is fascinated to meet Franklin, having recently read all about dragons in one of her books. They instantly become friends and talk non-stop about what they've read: books about roller skating, King Arthur, spiders and how to do kung fu. Together, they hatch a plan to share their love of books with others by opening a bookshop – a flying bookshop, that is – right on Franklin's back!
Don't miss out on these and many more! To browse through the Thames & Hudson titles available at The David Krut Bookstores, click here.