Word Art at 151 Poetry Sessions – The Second Event
Word Art at 151 Poetry Sessions – The Second Event
David Krut Bookstore, 151 Jan Smuts Avenue | Parkwood | Johannesburg
Gary Cummiskey, Gérard Rudolf, Myesha Jenkins, Makhosazana Xaba, Linda Ndlovu, Arja Salafranca and Saaleha Idress Bamjee
Wednesday 29th March at 18h30
Following the launch of Word Art at 151, the second poetry event in the program took place at David Krut Bookstore last night – and what a splendid event it was!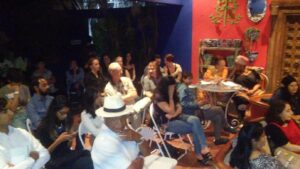 The collaboration with outgoing New Coin editor Gary Cummiskey provided an evening of insightful readings from six poets, each exploring different themes, experiences and voices. This session hosted Gérard Rudolf, Myesha Jenkins, Makhosazana Xaba, Gary Cummiskey, Linda Ndlovu, Arja Salafranca and Saaleha Idress Bamjee who shared recent works with all who attended.
The atmosphere was poignant which allowed the poets to connect with the audience, and after the readings the floor was open to conversation – further developing the platform of discussion around poetry, writing and performance.
Our ever-expanding poetry selection is now home to two titles by Makhosazana Xaba; Tongues of their Mothers and These Hands, a title which has just become a set work at the Nelson Mandela Metropolitan University.
The next poetry session will take place on 24 May 2017 as we launch Kelwyn Sole's seventh collection of poetry Walking, Falling in association with Deep South Press.
Walking, Falling is Kelwyn Sole's seventh collection of poetry. It extends and deepens themes that emerged in his earlier books: love and human relationships; the exposing of false and clichéd perspectives in our socio-political life; our relationship as South Africans to land and landscape. Rustum Kozain has written about his work: "Whether the theme is the end of a relationship or the murder of immigrants, there is the calm look of analysis, a voice, like a conscience, that threatens to disturb the reader's complacency, but a voice simultaneously gentle with empathy and sincerity."
To join our mailing list contact us, and keep an eye out on our social media platforms for upcoming dates and events. Like and share our page on Facebook, visit our website www.dev.davidkrutbookstores.com and stand a chance to win a subscription to a poetry journal every quarter.
For more information, please contact [email protected] or 011 880 5648