Word Art at 151 | Session 4 : Young voices
Word art at 151  Session 4 : Young Voices
The evening of session 4 of Word art at 151 nestled in a crowd of poetry lovers and a group 5 talented young poets. Session 4 aimed to celebrate the bold voices of the future of literature.
The poets dove into hard-hitting topics –  the injustices of society and their personal explorations of love, spirituality and democracy – incarnated in the expression of their own lived experiences whilst clad in the intricacies of potent word selection. This group was a manifestation of a dynamic shift in South African literature.
Word Art at 151 looks forward to continuously growing support towards this program dedicated to poetry and spoken word. Keep a look out for more information on session 5 in our monthly newsletters.
Get to know our five young voices by following these links to their Word art at 151 profiles
  Ahmed Patel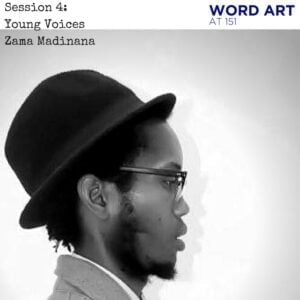 Zama Madinana
Images from Word art at 151 Session 4: Young voices